You are an inspiration to me.
I tell my team about you all the time! You are REAL and I cannot thank you enough for that!!
Lynn Hagedorn Became a Network Marketing Millionaire in 14 Months… All While Raising Three Kids in a Small Midwest Town.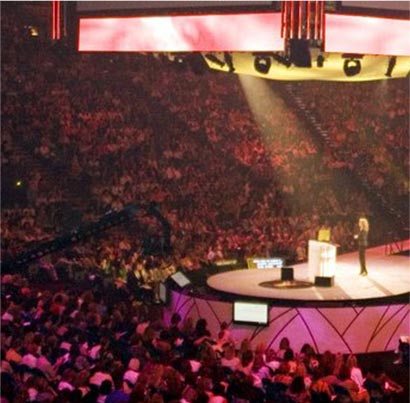 Invite Lynn to Speak at Your Event
Speaker Lynn Hagedorn Shares Inspiration & MLM Strategies Anyone Can Use to Succeed!
Lynn Hagedorn has a story many can relate to: a busy, over-stressed mom trying to balance work and parenting. A former occupational therapist, she turned to Network Marketing as a way to gain "time and financial freedom" for her family.
Lynn built one of the biggest MLM businesses in her first company…  then went on to achieve millionaire status faster than any associate in the history of her current company! She consistently earns six figures a month and seven figures a year from Network Marketing. All this from her home in rural Nebraska, where – as she says – there are more cows and cornfields than people.
Lynn is an expert at showing others how they can achieve success, too. Audiences love her enthusiasm, relatability and motivational story.
She shares Network Marketing strategies that are incredibly effective, yet simple for anyone to put into practice right away—giving your attendees tremendous value for the session.
Popular Presentation Topics
Lynn's presentations are customized to fit the outcome of your event. Here are some of her most popular topics!
Millionaire Mindset

Based on Lynn's top-selling audio program! In this inspirational presentation, Lynn Hagedorn shares how she – a busy, working mom from a small town – achieved millionaire status faster than any associate in the history of her company. Audiences will relate to her story and see that if she can do it, they can, too! Lynn offers simple yet powerful strategies for building a brand and business that anyone can put into practice immediately. A can't-miss presentation!
Get Paid—Get Your People Paid

So you've signed up a new associate for your Network Marketing team—great! But… what then? Getting that first commission is vital to associate retention. Top MLM earner Lynn Hagedorn shares her straightforward plan for helping new enrollees get their product paid for right off the bat. They'll be excited and motivated to build their MLM business along with you!
Casting a Vision for Success

A Network Marketing business isn't a one-person-show—it's a team effort. You succeed – or don't succeed – together. In this presentation, MLM expert Lynn Hagedorn shares how to "cast a vision for success" for your team, motivating them to grow their business along with you. She covers how to ask the right questions, how to set individual and team goals, and how to show others what's possible. A great presentation for team building!
Social Media: Fish, Don't Hunt!

Social media is an incredible tool for growing an MLM business, from team building to gaining new prospects. But… there are pitfalls to avoid. Network Marketing expert Lynn Hagedorn has thousands of followers on Facebook, and gets a third of her new enrollees from social media. In this presentation, she explains that the key to social media success is to "fish, not hunt."

Key takeaways:

How to avoid "hunting" – targeting people with sales pitches that scare them off
How to start "fishing" – offering people the content they want and need, boosting interaction
How to use social media to build community, not competition
Partial Speaking Client List

Speaking Testimonials
"You are such an inspiration… rock on!
"You are such an outstanding and inspirational individual. Just being around you makes me (and others) want to be better. – G. Matz
"Couldn't let another day pass without thanking you for sharing your time, your talents, your joy, your dreams, and your passion with us! It was worth the trip and then some. We bought 10 of your Millionaire Mindset CDs for our team! – Melinda C.
Interested in Hiring Lynn?
Already Hired Lynn?
Choose a Network Marketing speaker who will inspire your audience and give them the drive to succeed.